Jurnal Biologi Tropis (ISSN Print 1411-9587 and ISSN Online 2549-7863) was published in 2000 with a frequency of 2 times a year by the Biology Education Study Program FKIP PMIPA Mataram University, containing research results and scientific reviews in the field of Biological Science. Starting in 2020 Jurnal Biologi Tropis is published 3 times a year with periods in January-April, May-August and September-December. Publisher: Biology Education Study Program PMIPA FKIP Mataram University, Jln. Majapahit No. 62 Mataram, Lombok NTB 83125.
Nationally Accredited Journal by the Ministry of Research, Technology, and Higher Education of the Republic of Indonesia (2019-2024) Decree No. 36/E/KPT/2019
E-mail: jb.tropis@unram.ac.id  


Jurnal Biologi Tropis is licensed under a Creative Commons Attribution 4.0 International License.
CONGRATULATION

Jurnal Biologi Tropis

has been accredited

by the Ministry of Research, Technology, and Higher Education of the Republic of Indonesia Decree No. B/4130/E5/E5.2.1/2019 with SINTA 4
Posted: 2020-01-11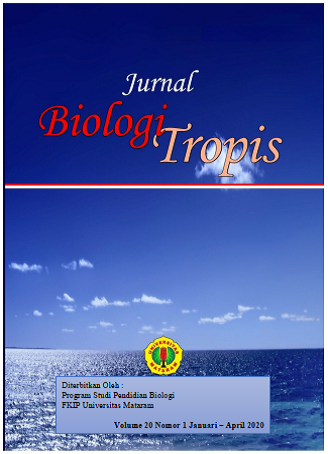 Table of Contents
Articles
Author(s): Mohammad Mukhlis Kamal, Yunizar Ernawati, Nina Nurmalia Dewi

| Statistics: 58 view, 43 download

1-6

Author(s): Imawan Wahyu Hidayat, Yudi Suhendri

| Statistics: 52 view, 36 download

7-15

Author(s): November Rianto Aminu, Alfon Pali, Sri Hartini

| Statistics: 66 view, 62 download

16-21

Author(s): Novin Teristiandi

| Statistics: 48 view, 46 download

22-28

Author(s): Ermayanti Ishak, Isdradjad Setyobudiandi, Fredinan Yulianda, Mennofatria Boer, Bahtiar Bahtiar

| Statistics: 52 view, 38 download

29-39

Author(s): Ahmad Raksun, Mahrus Mahrus, I Gde Mertha

| Statistics: 36 view, 35 download

40-45

Author(s): Uswatun Hasanah, Ayu Adhita Damayanti, Fariq Azhar

| Statistics: 37 view, 43 download

46-53

Author(s): Hendry Wijayanti, Dhani Gathot Herbowo, Andy Darmawan

| Statistics: 37 view, 39 download

54-58

Author(s): Sudarno Sudarno, La Anadi La Anadi, Asriyana Asriyana

| Statistics: 13 view, 15 download

59-68

Author(s): Angreni B. Liunokas, Ferry F. Karwur

| Statistics: 15 view, 12 download

69-77

Author(s): Efraim Samson, Daniati Kasale

| Statistics: 9 view, 4 download

78-86