Nationally Accredited based on the Decree of the Minister of Research, Technology and Higher Education, Number 14/E/KPT/2019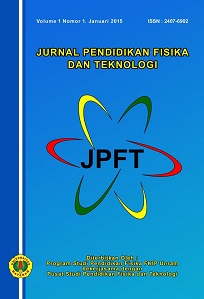 Jurnal Pendidikan Fisika dan Teknologi (JPFT) merupakan wadah publikasi ilmiah bagi dosen, guru, mahasiswa, dan peneliti bidang fisika dan pembelajarannya, termasuk teknologi terapan dan teknologi pembelajaran yang sesuai. Terbit perdana pada tahun 2015 dan mulai tahun 2017 JPFT terbit 2 kali dalam setahun yaitu pada bulan Juni dan Desember.
Semua artikel yang diterima dan memenuhi persyaratan akan dipublikasikan dan tersedia secara bebas (open access) untuk dibaca dan diunduh oleh semua pembaca dibawah lisensi Creative Commons Attribution-ShareAlike 4.0 International License. 
Pengumuman!

Batas pengiriman naskah 30 November 2020.

Posted: 2020-06-18

CONGRATULATIONS!

Jurnal Pendidikan Fisika dan Teknologi (JPFT) has been accredited by the Ministry of Research, Technology, and Higher Education of the Republic of Indonesia Decree No. 14/E/KPT/2019 with SINTA 4


 

Posted: 2019-05-31